You asked. Morrison answers
Sep 25 2023
FAQ
3 Min. Read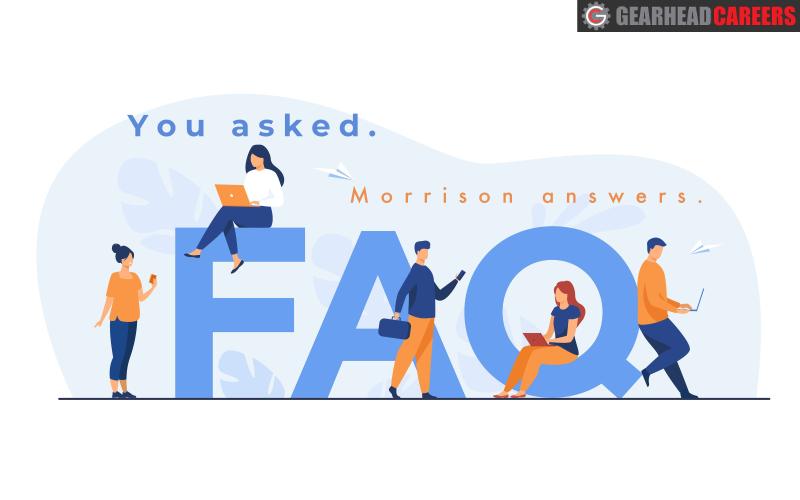 When you're looking at a company to join, you have questions. We've tried to anticipate what you're curious about. We've compiled those questions and our answers in this blog post.
Morrison applicants' FAQs
What is Morrison known for?
Morrison is a leader in the material handling industry. Our core business is our network of 12 branches in lower Michigan and northern Indiana. These branches serve customers by selling, renting, servicing, and providing parts for forklifts and related industrial equipment. We have a 70-year history of thorough industry knowledge, unparalleled dependability, top quality products, and exceptional service.
We've expanded our company through acquisitions in recent years, adding related companies that have helped us grow into a broadly-integrated supplier.
What is material handling?
Simply put, material handling is about getting goods and materials from Point A to Point B. The term is used for activities as varied as getting sheet steel to a punch press, moving workpieces around a factory, delivering finished goods to a warehouse, and delivering a load of lumber for pick-up.
What's the culture at Morrison?
All of us at Morrison are committed to working hard and smart for our customers. At the end of the day we're professionals, and we take pride in the material handling expertise we offer to our customers.
However, Morrison is also a company where co-workers enjoy each other. We like to have fun together, so we add outings and activities as a break from the serious business of serving customers.
Because we are dedicated professionals who enjoy and respect one another, Morrison employees are supportive of each other. Experienced employees are always eager to share wisdom with those who are new to Morrison. And everyone is eager to learn.
Will there be training provided?
We provide comprehensive, ongoing training, including onboarding, classroom, online, and on-the job training, and opportunities for job-shadowing
What kind of advancement opportunities are there?
We're committed to facilitating employee growth. With a dozen branches plus our subsidiaries, there's a lot of opportunity for advancement. In fact, many of our leading managers started with Morrison as assistants, technicians, or clerks.
How does Morrison ensure work/life balance?
We believe work is important, but it's not the only thing in someone's life. We encourage employees to use all of their Paid Time Off each year. Because Morrison employees like to have fun together, we add outings and activities as a break from the serious business of serving customers.
What benefits can I expect?
We offer competitive salaries and a full range of benefits:
Paid Time Off

Medical, drug, dental, and vision insurance coverage (can include your family)

Paid life insurance for you, your spouse, and your children

Available 401k with employer matching

Employee Assistance Program for you and your family

Available tax-beneficial Flexible Spending Account

Employee referral bonus
Also, learner technicians get an 'on loan' tool package that's theirs once they complete 18 months of employment in good standing.
The Morrison family welcomes you
Join a Morrison company, and you join a family of over 350 material handling professionals. We're a team of sales representatives, managers, engineers, technicians, administrative staff, and customer service representatives who support each other and take care of our customers.
Check out Gearhead Careers to search our current openings. Apply today and start the process of joining our industry-leading family.
© https://www.gearheadcareers.com