Morrison career benefits
Special Benefits
Internship opportunities.
We have apprentice opportunities for Technicians and Management Trainee Opportunities to gain and grow knowledge in the operations side of the company.
Tools for techs hire-in program.
A strong mechanical aptitude, and a desire to learn is not all that is needed for the tech in training. We provide you with the tools you need to succeed. Learn more about Tools & Training here.
Join our
team

family.

All 1st shift. Monday - Friday work week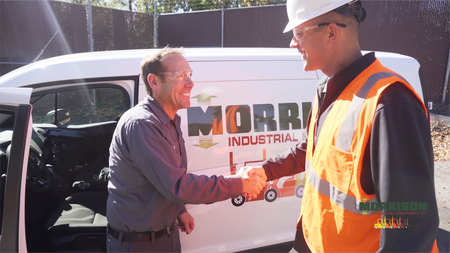 Solid. Dependable. Family. Yes, we have all the usual benefits and then some, but what Morrison has that is a rare find these days, is the kind of work culture where people retire after 35+ years and come back for another couple years because they "missed the guys" and the relationships they built with our customers.
That kind of benefit is hard to quantify—but liking the people you work with every day, finding satisfaction in a job well done, being treated with kindness and respect, and having some fun thrown in with the daily grind—that's a place you want to stay and grow and retire from someday.
General

Benefits

Our employees enjoy a clean, safe work environment that is family-friendly and full of opportunity. Many of our top managers started their careers with Morrison as Technicians and Parts Clerks. So no matter where you start, you determine your success! So what are you waiting for? Give your career the "LIFT" it needs today!
Excellent starting wages
Company paid health insurance
Flexible spending account
Dependent care reimbursement
Life insurance
Paid Holidays
Paid personal days
Paid sick days
Employee referral bonus
Disability Coverage
401(k) retirement package
Benefits