Women in the Material Handling Industry
Mar 03 2022
Women
4 Min. Read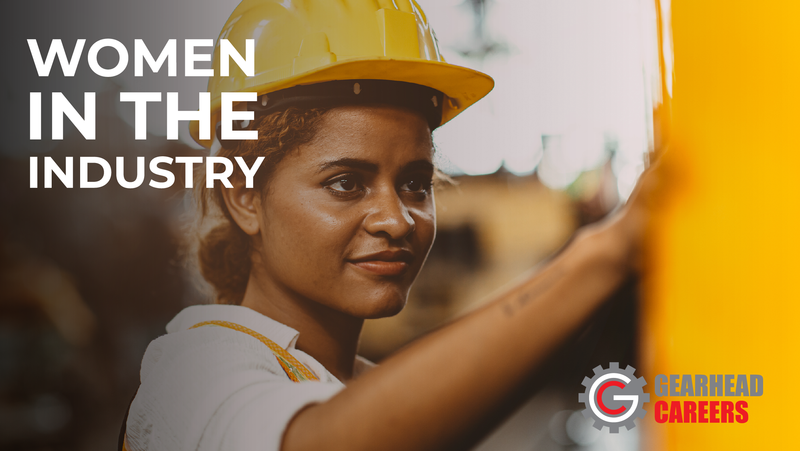 Material handling is a very diversified industry requiring many skills and a wide variety of talent.
Women in Material Handling
Think the field of material handling is exclusively a man's world? Think again. Nothing could be further from the truth. The number of women in material handling grows every year.

Material handling is a very diversified industry requiring many skills and a wide variety of talent. Careers in this field call for:

● Problem-solving abilities: The ability to look for ways to continuously improve is valued.

● Ability to learn on the job: You need to be able to learn hands-on and ask questions.

● Open attitude toward tackling challenges: There'll be challenges every day; you need to be willing to overcome them.
How to get started in the Material Handling Industry
Probably the most common entry level job in material handling is that of forklift technician. Our forklift technicians—both men and women—often stay in this role and develop valuable relationships with their customers at the companies they serve that last 30-40 years. Matter of fact, our technicians are the true face of Morrison and we depend on them to be professional and helpful partners with our customers.

Some of our technicians have chosen to grow into other roles as Service Managers, Technical Advisors and Branch Managers.

Other entry level roles would be Parts Clerk, Service Clerk, Customer Service, Truck Driver, Office Assistant, Receptionist, and Invoicing Specialist. There are other roles in Accounting, Sales, Leasing, Rental and Fleet Management.

At Morrison we have very successful women in many of these roles.
Quick Facts:
Morrison offers paid training and a Tool Ownership Program for new hire forklift technicians.
We are hiring both experienced and entry-level technicians all the time because our business is growing rapidly across all 11 Morrison Industrial branches and our other companies as well: Forklifts of Michigan, Quantum Forklift and Cisco (forklift battery technicians).
We have locations throughout Michigan and in Northern Indiana.
Women at Morrison Industries Companies
Morrison Industries is a family of industrial material handling equipment companies. Our diverse workforce includes women throughout the organization. Here are some insights from a few of them:
Holly Taylor: Saginaw Service Manager, Morrison Industrial Equipment
Holly started as a service assistant in 2016. As service manager she helps the service technicians get out on the road each day. Throughout the day she answers questions, sends quotes, and costs completed work orders.
Kayla Clayton: Brighton Service Manager, Morrison Industrial Equipment
Kayla started as a receptionist, then became a service assistant, and is now service manager. She's been with Morrison for 13 years.
Kayla says, "I love this company and this branch. Everyone gets along. We all have each other's back and work together as a team."
Sue Sturtevant: Greenville Branch Manager, Morrison Industrial Equipment
Sue started in 1999 managing a warehouse. She then moved to another location and became a parts manager after 3 years. In 2011 she became a branch manager.
Sue's job is centered on helping her managers and techs do their jobs. She explains, " We all work together well and strive to be the best at what we do."
Kendra Rickle: General Manager, Forklifts of Michigan
Kendra started in 1993 as a Parts Assistant at the Greenville Branch. In 1995 she became Parts Manager. In 2015 she was promoted to Aftermarket Sales Manager, then served as Mason Branch Manager for several years. Most recently, she has taken on the role of General Manager of Forklifts of Michigan.
Kendra has learned the industry from the ground up and leads her team(s) by example. Kendra says: "I still learn new things everyday, I love what I do and who I work with".
Support for Women in the Industry
If you'd like to network and learn from women who work in material handling, the Material Handling Equipment Distributors Association (MHEDA) has a Women in Industry initiative that's an excellent place to begin. The initiative works to inspire and draw women to the material handling industry by offering resources and a network that foster professional success.
MHEDA's Women in Industry initiative provides services such as:
● online networking
● online education
● mentoring
Join the Morrison Industries Family of Companies

Gearhead Careers direct hires for all the Morrison companies. You can explore our companies and view job openings here.
Morrison is a leader in the material handling industry. We're a team-oriented company that believes in growing talent from within. Apply today. Come and grow with us.
© https://www.gearheadcareers.com