What is it like to be a Service Manager at Morrison?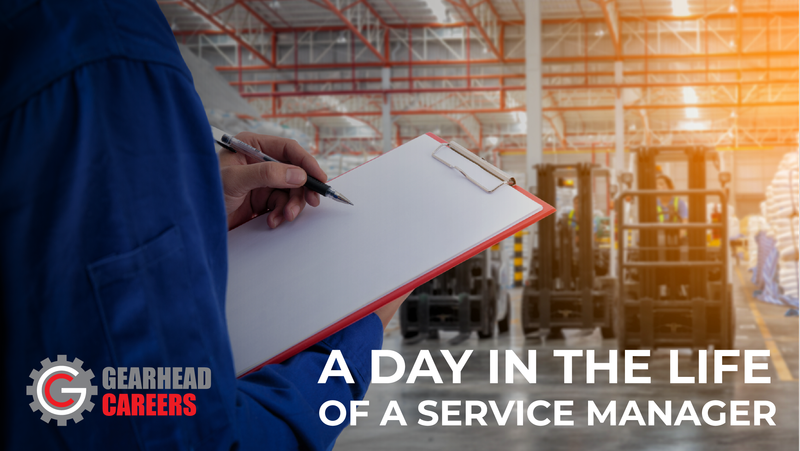 We asked current Service Managers what they do and how they got to their position.
Within the Morrison Industrial Equipment organization, the Service Manager serves an important function at each branch office. To paraphrase the job description, a Service Manager follows through with customers, technicians, and team members on service, parts, and sales information. Also, she or he must understand workflow and critical processes, such as reviewing and approving work orders, making outgoing calls, troubleshooting and problem solving.
That's the official description, but to find out how that plays out in real branch life, we asked current Service Managers what they do and how they got to their position. Our thanks to Steve Fellows of Traverse City, Kayla Clayton of Brighton, Jason O'Dea of Grand Rapids, and Mike Wissner of Kalamazoo for taking time to answer questions.
What is a Morrison Service Manager's day like?
A typical "day-in-the-life" of a Morrison Service Manager is full of variety – customer contact, organizing the work of service technicians, and performing business function like billing,
Steve explains "about a quarter to half of my day involves working with technicians on technical support, dealing with customers, what tools they should be using, how to complete work orders, and working with my former customers. I get asked a lot of questions every day on what I know about specific customers and how to handle them. I also have internal office obligations, like billing, managing technician assignments and record-keeping."
According to Kayla, "my day starts with making sure all the techs have what they need (job specifics, parts, etc.) and getting them out the door. Then I dive into payroll, work orders/invoicing and customer requests. I spend the day doing quotes, answering customer questions, and scheduling service calls. There is never a dull or boring moment in the day."
Jason says, "The job of a service manager is multi-faceted and very fast paced. The service department works feverishly to respond to customer needs, on the road and in the shop. We also work with multiple internal departments providing service and transportation support, departments like new and used equipment sales, and parts.
While Mike points out that his "daily responsibilities involve assisting service technicians with technical issues, managing shop and road technicians' current work in process, setting up transportation for rentals and new sales equipment, and setting up technicians' training schedules.
What's the path to becoming a Service Manager?
Morrison hires Service Managers from both inside and outside the company; however, there's no doubt it helps to have worked at Morrison and know the company. The Service Managers we talked to have between 4 and 24 years of experience at Morrison Industrial Equipment Company in a branch service department.
Mike's experience is a good example, "I've been here about 8 years, starting as a technician in August of 2014. I became Kalamazoo Service Manager in August of 2019." This is definitely a position a service technician can grow into.
What's the business culture at Morrison?
This group of managers has positive things to say about Morrison. The importance of teamwork is a common theme.
"The culture here is teamwork-based. Everyone is willing to help each other out with issues that they run into," says Mike.
"I love this company and this branch. Everyone gets along. We all have each other's back, and we work together as a team," Kayla explains.
Steve's take is that "we are customer and mechanically-focused. We focus on time efficiency and hard work. Often a job is independent but team-oriented at the same time."
Since he's in Grand Rapids, home of the company headquarters, Jason's experience is similar but different. He describes it this way. "People are busy, efficient, and hands-on. Always helpful."
Join us. We need you!
Gearhead Careers hires for all the Morison companies. You can explore our companies and view job openings here.
Morrison is a leader in the material handling industry. We're a team-oriented company that believes in growing talent from within.
At Morrison Industrial Equipment, with branches in Michigan and northern Indiana, we have service technician positions available.  Apply today. Come and grow with us.
© https://www.gearheadcareers.com