Making Work Fun at Morrison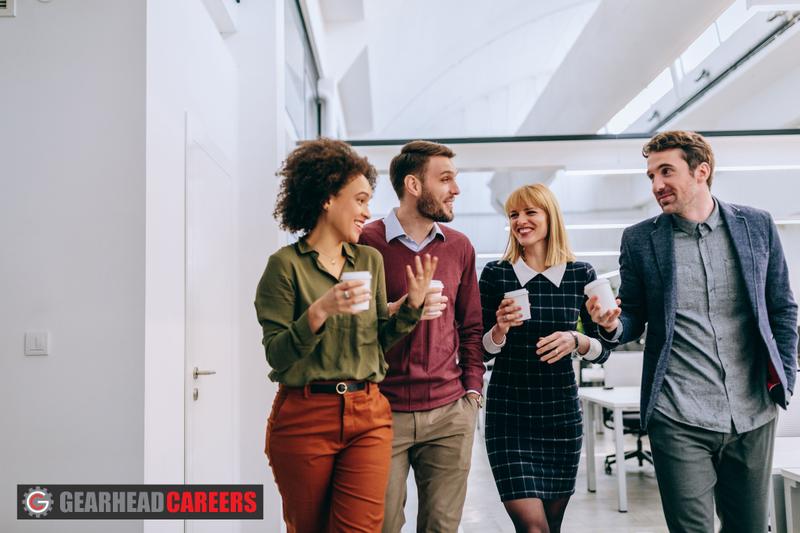 Which sounds better to you?  A culture where everyone just does their job and never interacts? Or a company where co-workers enjoy each other? Morrison employees would go for the second option.  We're social animals after all so we don't enjoy a job that's all work and no fun
That's why Morrison works hard to add some fun. We encourage an open, supportive atmosphere. Then we mix in a variety of outings and activities as a break from the serious business of serving customers.
Here are some examples of recent outings at some of our branches.
Creativity, competition and fun at Morrison
Holland Branch
The crew from the Holland, MI branch went to BAM! Entertainment Center, an exciting local spot, in October for an evening of bowling and axe throwing. (No limbs were lost! Axe throwing involves competitors throwing an axe at a target, trying to hit the bullseye.) Per branch manager, Adam Magoon, it was a great time with pizza and drinks for all.
Muskegon Branch
In July the Muskegon branch chartered a boat for a day. According to branch manager Jeff Jenkins, "Everyone had a good time reeling in fish, snacking, and enjoying refreshments. We'll have a year-end party as well."
Muskegon services Mason, Muskegon, and Oceana.
Shown in the photo are technicians, Chuck Buchner and Dave Satterlee. Both have been with the company for over 20 years! (Chuck – 22 years and David – 25 years)
Mason Branch
A session at a local paintball range was an exciting outing for the Mason branch. It was so much fun, everyone wants to do it again, according to branch manager, Dan Tase. (Dan has been with Morrison for 32 years.)
Mason Branch services Clinton, Eaton, Hillsdale, Ingham, Jackson, and Lenawee. The branch is currently hiring Management Trainees and Field Service Techs.
Forklifts of Michigan (FOM) Branch
For a mix of creativity and competition, FOM had a pumpkin carving contest. Elizabeth Jorgenson, a tech who has been with Morrison a year, won. "It's nice to be able to celebrate holidays with my new co-workers," says Ashleigh Dunn, a new service assistant.
Dan Kelleher, shop service manager who has 11 years with the company, explains, "Sometimes we work hard. Sometimes we carve pumpkins. Either way, we have fun at Forklifts of Michigan,"
FOM services Kent, Barry, Ottawa, Newaygo, Muskegon, Montcalm, Ionia, and Allegan.
Join the Morrison family
Morrison is a leader in the material handling industry. We're a team-oriented company that knows how to have a good time. We offer the best in benefits and training, plus a supportive, friendly work environment. Morrison's work culture is one where people stay 35+ years and still come back to visit.
Check out Gearhead Careers to explore our great Morrison companies and view job openings. Apply today and start the process of joining our family.
© https://www.gearheadcareers.com